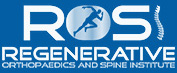 In 2015 Dr. Philip Ploska proudly opened Regenerative Orthopaedics & Spine Institute (ROSI). At ROSI we strive to create an atmosphere in which patients are treated like family, not a number.
At ROSI, we are committed to providing excellent care to our patients with compassion, understanding, and respect. Our goal is to deliver medicine that improves your quality of life by raising the standard in orthopedic and spine care.
Our team has undergone extensive specialized training to ensure that patients get the absolute best quality of care. We offer a wide range of treatment options, from nonoperative care and in-office procedures for minor conditions to the latest surgical procedures for more complex disorders and injuries.
No matter what your treatment path may be, you can expect the same compassionate care and technical expertise as our specialists to assist you on your road to recovery.
Our Mission Statement
Regenerative Orthopaedics and Spine Institute delivers comprehensive orthopaedic care through state of the art technology and innovative techniques.
Our mission is to provide thorough, compassionate, and expert orthopaedic treatment to improve your quality of life!